My colleague got Bullied and Harassed by Manager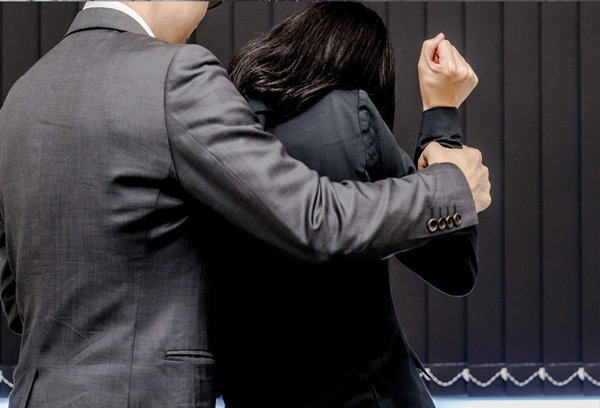 Key Hostile Behavior faced – Bullying & Harassment
Read My Story
We were deployed for an IT project at the client site. The person with whom we had to work closely was the one who was responsible for reviewing and reporting about our performance. We were two girls from our company. My colleague was a bit on the darker side in complexion.
Sometimes I observed that this person (our reviewer) used to mock about her looks and kept on passing derogatory remarks about her complexion on an ongoing basis.
One day my friend objected and confronted him that she doesn't like the way he speaks to her. After that day, he became hostile. He stopped commenting but started harnessing her in a way that he used to conceal her work and started reporting falsely about her. He also tried to put her down by way of projecting her as under-performer and inefficient in front of other seniors and team members. We knew the reason of this sudden change in behavior but did not do anything about it.
Luckily our work on that project got completed in few days after this incident. Soon we got a sign off and we shifted back from client side to the company.
How did it end and Current Status?
The situation and time played in our favor otherwise his behavior could have impacted our work performance and we were in no situation to leave the project in between and go back to our company.
Suggestion to Readers
The most used weapon by any perpetrator to defend himself is to target the victim stating her as underperformer in most of the cases. The suggestion here would be to form groups and share your experience within that group. Inform the HR of your company in writing and confront the culprit as a group, so that he is aware that any further attempt by him will bring in shame and disciplinary action against him which can also lead to termination. Stand for other women and seek support from other women.
Have a suggestion which is different than the above, share it at hrhelpdesk@www.hrhelpdesk.in and we shall publish it for the benefit of all the readers.