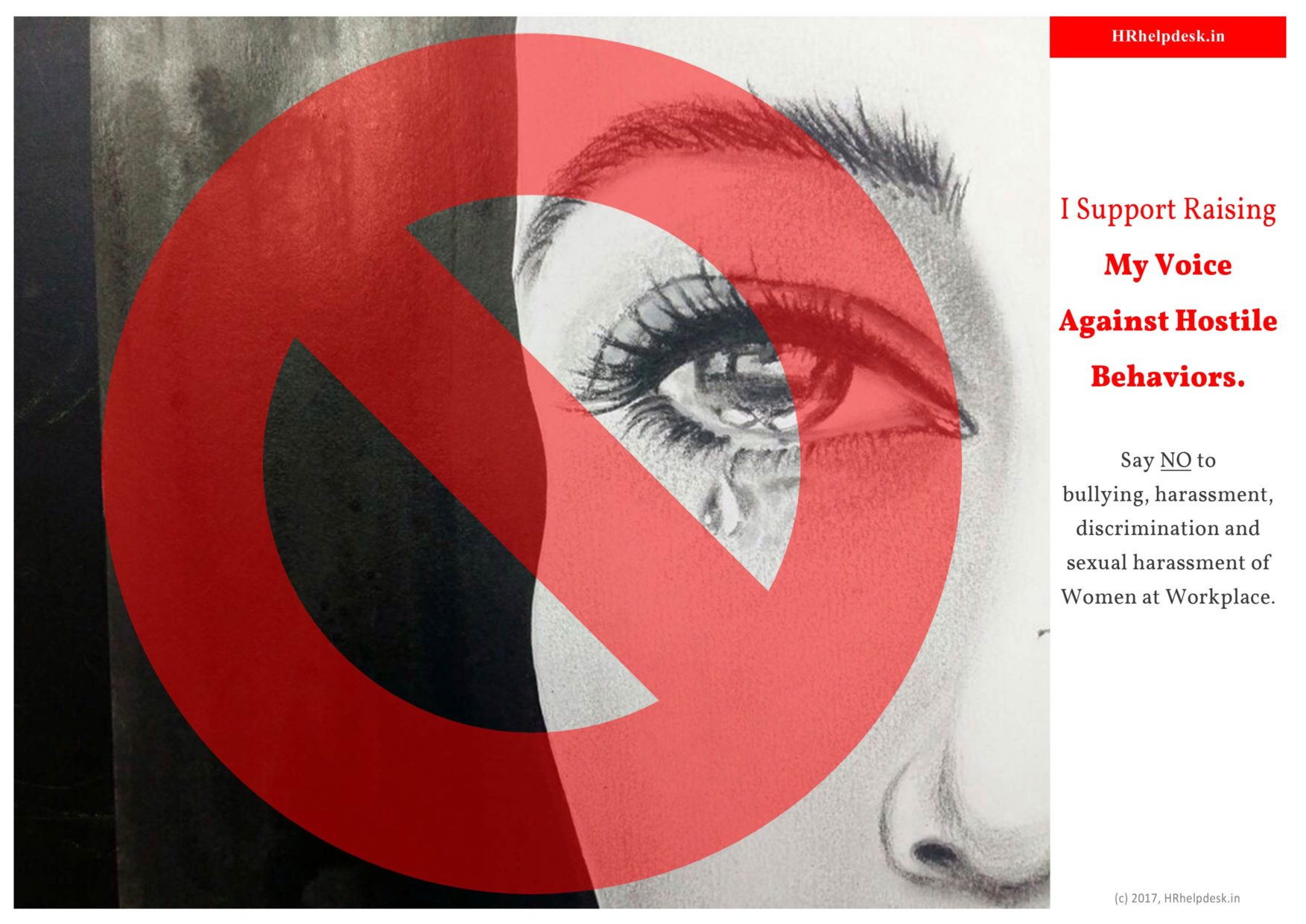 Key Hostile Behavior faced – Sexual Harassment
Read My Story
I have read a lot of stories written here, and had participated in the survey also, and was surprised to read that my comment was mentioned verbatim in the detailed report (atleast I assume it was mine).
I think I need to share the entire story, not that anything can happen now, but it may be a guide to many women who have their entire life in front of them, and though I do not wish God to put them in such a situation, but if you do find yourself in such a situation, I would like to say, what I chose is not the best, and I am sure others here can share views of how to have handled this in a different way, better or worse is only for time to tell.
I was working as an administrative executive in a Indian company based in Delhi, it is not big like Tata, but is not small to be ignored, has close to 500 white collar employees and about 3000 blue collar workers. The purpose of telling this is to highlight, that I was one of the thousands in the company, this was in 2006 and my salary was merely 10 K per month.
I had 2 kids, 1 and 3 at that time and suddenly I got a call one day that my husband who was working in a large multinational died in a car accident, and since he was not wearing the seat belt, that company could only help by way of getting the life insurance money, which wasn't too much help as we were in a home loan which had just started about 2 years ago.
For some reason, at the last rites, the managing director, who is also the owner of the company came, I don't know the reason, maybe it was because I had 2 young kids, or sudden death of my husband or whatever. He just offered his condolences and left.
He told me, that I can take as much leave as I want, and that my job will not be lost, and during this entire period, I will continue to get my salary. He informed my manager, who also said the same thing. About a month passed and I then joined back, during this entire time, the company provided a lot of support by way of assigning their office boys and legal department to help me sort things out. None of this was done by my husband's company, which ensured that the insurance Cheque came, and then I was forgotten.
About 4 to 5 months post my joining, I was again face to face with the managing director as he entered the lift and so did I. there were others also, and he asked how am I doing and other stuff, he asked, hope financially things are doing fine, and I broadly mentioned that I spent the insurance claim in paying the home loan, and am now practically running the house on my salary, which was still 10 K per month.
During appraisal time, I was told by my manager that there is a role for executive secretary in the managing director's office, and if I am interested I can join there, to make things interesting, I was told, that the role is 2 grades higher, which means my salary will change significantly. I took a financial decision, even though I had no clue of how to manage a secretarial job.
I shifted into that role and I along with the senior secretary kept working for a year. The Managing director was very professional, would work like a workhorse and treat us with respect. We were 5 of us, managing his office. We were required to go to his mansion also quite often as he had an office there with complete support staff.
I had a salary increase, but wasn't so fine that I could have managed schooling in the best schools, the elder one was already in play and the younger ones creche fee was hitting me.
He had some real important foreign visitors and the senior most secretary was seriously ill, so this entire thing fell upon me, the managing director was also not happy, as I was junior. The way he talked to me, it looked as if he did not have faith in my abilities and gave me this job only on compassionate grounds. I went to such a level in ensuring that the delegation and the visit went on smoothly, right from hotel staff briefing to cabs to visits of our plants. That by the time the visit ended the plant heads told the managing director, they felt I was the managing director and I ordered the plant heads to run the plant visits in a particular fashion, sometimes going against their wishes. This ended up in the company getting the largest order it has got in the history, even till date.
I had no bounds of happiness and the managing director said I deserved to be at a better place than this role. He asked me about my career ambitions and I said HR.
I was shifted into HR and given tasks. He said he treated me like a daughter and my visits to their mansion increased, had met his wife and kids also number of times.
It was one such meeting when apparently, his wife wasn't in town that he started getting personal and said, "See I have gone out of the way to ensure that you get what you deserve, have ensured your skills get recognized and you get what you deserve. He further went on to say, you may be skilled, and you may be a good person, but none of that is worth anything unless you have a godfather." Then he said even he has needs and would wish that I spend the night with him, he went on to say that he will send me in his car so I can bring my kids to his mansion and the kids can be there itself and leave the next day along with me.
This was getting me worried, but the final point by him, gave me things in the right perspective, he said, I can choose to come back and carry on with the growth and salary hikes or I can choose not to come back, in which case he won't mind it, but he would expect that I resign and leave in about a month, as I would have failed my part of the promise.
I took the decision to go back.
Yes, I have grown, and today am at a very senior position in the company and draw a very high salary, my kids would finish schooling from a well known school. I don't know whether the MDs wife knows about this or not, but we have had many stay-overs since then, and everyone feels that he is my godfather, right from my relatives, to his family, to office colleagues.
Can I change this now, I don't think so, could I have done anything different and avoided this, I really don't know. But can women who are in such desperate need of taking care of family really do something different, that is for all of us to advise.
I have learnt to live this way, but my advice to other women who may get into this situation is, explore other options, you have to sacrifice a lot for following this path.
The salary and position I hold today is not a sign of the success I got, but a sign of sacrifices I had to make.
I would really like to hear views from others on how women of today's age can manage the situation in a different way. And I really like to thanks the team for putting together such a forum where we women can learn from each other's experiences.
How Did It End and Current Status
She is currently still working there.
How You Can Help
Do provide suggestions.