1. Good listeners and curious learners
Ability to understand the requirement, client's need and candidate's need is the first thing in recruitment which can be achieved if you are a good listener and then comes learning and understanding about the hiring manger/candidate's profile/company's profile
2. Relationship Building:
Recruiting is personal so to become a good recruiter you should be prepared to deal with people from a wide range of backgrounds every day and for that you need people skills. You need to be a person who can recognize when a personal connection can be made. Eg- sending personalized emails and building actual relationships makes good recruiters stand out, even when they're rejecting candidates. Job changes require candidates and clients to share important, and sometimes personal, information to make the search and placement process successful, and they will be more apt to share that information when recruiters have invested time in getting to know them.
3. Proactive, Tech Savvy & Social media skills is the mantra
Gone is the time when you could post your job opening on a job board and wait for a great candidate to come to you Because only active job seekers visit job boards and majority of the candidates are passive job seekers. These passive job seekers are candidates who aren't actively looking for a new job but would be willing to accept a better offer.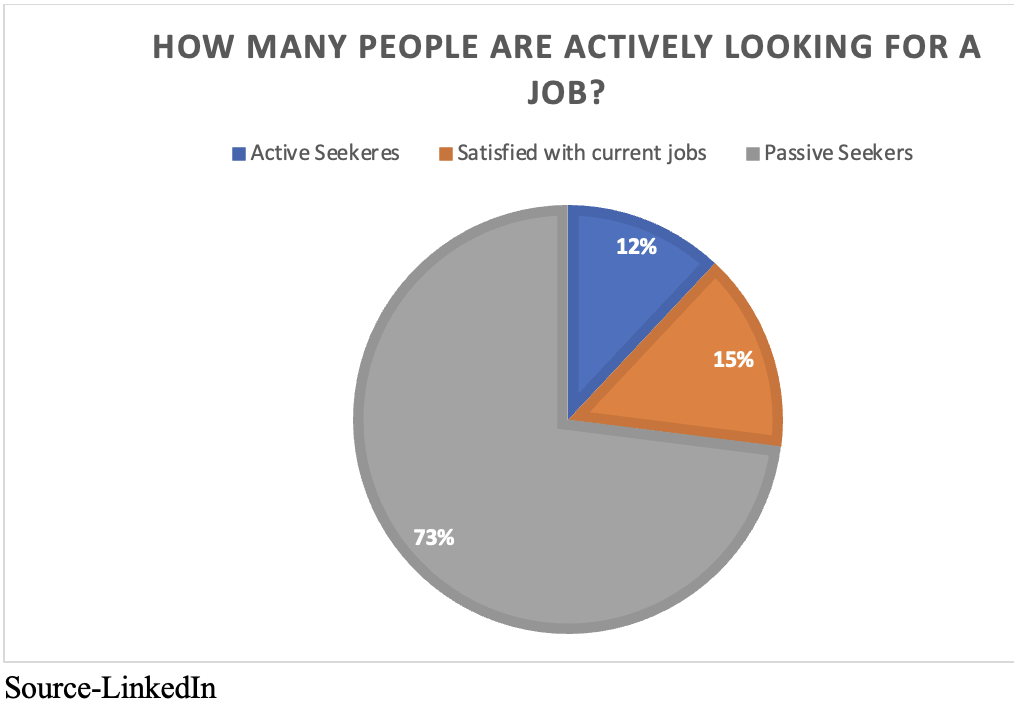 A successful recruiter is the one who go out there and proactively source and attract candidate.
4. Tech Savvy:
Successful recruiters know that the time of managing recruiting processes using spreadsheets, documents and post-its is long gone.
Technology is making its way into the recruiting world more and more and gives recruiters that adopt it, a huge competitive advantage. The right use of technology increases your efficiency and effectiveness drastically.
Today's technology offers a great variety of different recruiting software which can automate, streamline and improve different stages of your recruiting process.
There are modern HR tools that offer all-in-one solution for finding, attracting, engaging, nurturing and converting candidates into job applicants.
Successful recruiters have adopted these tools, and this gives them a huge competitive advantage in the war for talent.
Social media is more than just a marketing tool. It's also a great way to recruit top talent and engage them, Successful recruiters also rely heavily on employee referrals.
While LinkedIn is a great way to post openings or find potential hires, other platforms, like Twitter, Instagram, and Facebook, can help you show off what it's like to work
5. Quick Decision maker/Sense of urgency:
Which is position is on fire, which organisation is fast in providing feedbacks, what new positions have come and how many vendors are working on it -these things you have to decide fast otherwise you miss the bus so a good recruiter keep these things in mind and keep a strict tab on TAT.
Companies and jobseekers don't just rely on one source for filling their positions or finding a job but multiple sources. Who acts quickly will therefore win in the end.
One should also know how to shift priorities based on what is happening during the day.
6. Multi tasking/Time management
Ability to multitask is one of the most important thing as every day you have to keep track of joining's, interview line ups, discussion with hiring managers and sourcing on new /old positions, connecting with new potential clients. Here also making a list of tasks/everyday goals with the help of technology can save a lot of time and edge.
7. Honesty & integrity
Ours is an industry that suffers from a perception problem. Some recruiting agencies use unethical tactics; they may be pushy, put their desires ahead of what's right for the client and candidate or may simply be terrible listeners. As a result, there may be a general mistrust of recruiters. It's impossible to achieve long-term success if we sacrifice for short-term financial gain
8. Persistent
The most successful recruiters know how to be persistent without crossing the line. Following candidates, different -different hr contact persons, asking candidates for referrals, expectation settings of the candidate/client
9. Resilient
The ability to bounce back from disappointment/failure, candidates not joining, taking counter offers, position got filled by some other vendors, position got filled by referrals. There can be n number of internal/external factors which are not in your hand, ability to get over with it quickly is of utmost importance here as it can ruin your day and affect your performance.
10. Self Improvement
For good recruiters, there is no such thing as a bad experience. Mistakes are valuable learning lessons. When they don't achieve the results they expected, they try to figure out what went wrong and how to avoid it next time.
11. Marketing skills
Recruitment is all about marketing and selling the company to potential candidates looking for a career change. Hence, it is necessary to do the following:
Recruiters must develop advertising and web analytics skills that marketers use for their lead generation programs
They must focus on developing their ability to pitch the benefits of working for their company
Make use of the right marketing tools and platforms to look for great candidates more effectively
The better one is at promoting the company and the job, the more effective he/she will be at landing the best candidate.
Manish Shukla heads recruitment at HRhelpdesk, a boutique HR Consulting company.